INTERVIEW: Larry the Cable Guy at Jeff & Larry's Backyard BBQ feat. musical guests
Larry the Cable Guy and Jeff Foxworthy will make their way through Denver on Saturday, August 19 for their first-ever Backyard BBQ. Providing music in between sets is Eddie Money and Foghat. Tickets for the show are still available at axs.com.  Larry the Cable Guy called into the Denver's Dirty headquarters to discuss the upcoming tour. In the interview, Larry (Daniel Whitney) tells us about his current life, the inspiration for the Backyard BBQ, his creative process, and his experience in Colorado.
Thank you for taking the time to speak to us, Larry. Tell us, what's new?
Raising kids (laughts). The Cars thing kept me busy for awhile… I do all the toys, games, and videos. I do the voice of a lot of stuff out at the theme park, so that keeps me pretty busy. Jeff and I wrapped up our tour….we went all the way from January all the way through the first or second week of May. My summer, I usually take off and play a lot of charity golf tournaments. Then I pick it back up in August where Jeff and I are doing these outdoor BBQ's. Once those are done, I will pick it back up again in January.
What gave you guys the idea to do the Backyard BBQ?
I don't like working during football season because I have season tickets to all of the Nebraska football games. I haven't ever missed a game in 11 years since moving back to Nebraska. They (Jeff Foxworthy and management) said we wanted to do a music and comedy-type tour with a couple classic rock bands. The three bands they said would be in it are Eddie Money, Foghat, and Marshall Tucker band and we'll (Jeff and Larry) interact between them. There will be two at each venue. Colt 40 used to open for me on the road, which I thought was pretty awesome. So I've done that before, where I follow a music act. I've done fairs before, so has Jeff, that include both music and comedy. They're just fun nights. Jeff recently did the Red Fest in Austin Texas for the weekend, where it was him and four bands and I went down and did a set. They're fun…they're a fun family event. And so they brought this up and you know it has to be fun…because I'm giving up two Nebraska home games. If I didn't think that it was going to be a fun event I definitely would not do it. So I'm going to give up a few home games to do this. If I was with my family, I think my kids would love it. I just thought it was it was something different, you know? Jeff and I toured together a lot and we have a great time. There's just an added element that I think is a lot of fun and so we both decided right away "Hey man, this sounds like fun, do you want to do it?"
"Yeah, let's do it!"  
"Yeah, I'm in"
Jeff and I work so good together. The show right is going to be great, it's not going to be that regimented, you know. We're just going to have fun, we're going to eat some barbecue and listen to some music.
Rewinding back, you did a lot of radio towards the beginning of your career.How has that affected your stand-up comedy career?
I started doing stand up in 1986. 1985 was the first time I ever went on stage at the Comedy Corner in West Palm Beach. I went professional in May of 1988. In 1989-1990, I started calling a radio station doing characters in Tampa. I had a couple of characters that was really popular, one of them Larry the Cable Guy, and I just did it all the time and the more I did it….
I liked it because it helped me write and not be lazy. It forced me to write. I mean I had to be funny for three and a half minutes every morning with something new and I liked it, it was fun. I didn't get paid a lot for it. I just started getting syndicated on other stations and started pushing what I was doing. I think I had all together, I did about 27 radio stations. I think four of them paid me full time. I was on full time at a radio station in Orlando. I was a sidekick on the air and it was pretty good because whenever I wasn't on the road doing stand up I would go into the radio station and be a sidekick. If I was on the road I wouldn't go in and that was the deal that I struck so I was already up comedian. What radio did for me and a lot of comedians don't realize about radio is morning radio…like I said it helped me to write and it made me be funny for three and a half minutes a day, but you develop a good following. I don't know what it's like now because I haven't done it for so long but back in the 90's, radio was a big deal. I mean, you know the DJ's were really popular and if you can get on a good popular morning show and you became a person that people like to listen to on that show then you could you could drop pretty good from that city. So what I did was I just started getting on radio stations and I would work the comedy clubs only in the places where I was on the radio because the radio station would make a promotion out of it and the comedy club liked it because they didn't spend as much on advertising because they're already getting free advertising because I was on the radio talking about it. So that's literally that's how it happened and if it wasn't for morning radio…that's how I pushed my awareness. A lot of people went to L.A., a lot of people went to New York and they would do guest sets and try to get guest sets at the Comedy Magic Club or Comedy Store or The Improv and I never went that route, I went straight to the people.
At the time I never thought. I didn't know what it would lead to. I did know that it was fun, that I enjoyed it and that it made me work at my craft. I had no idea what it would lead to and basically what it led to was a really good cult underground following and when I got asked to audition to be a part of the Blue Collar Comedy Tour, I remember my first night, my first audition night was in Columbia, South Carolina and I was already on the radio station. I was already doing stuff on the syndicated show called John Boy and Billy and so I mean it was packed. I bet they had, they sold probably 10,000-11,000 tickets at an amphitheatre. I'm pretty much sure, according to the reaction when I came out on stage, that I was probably responsible for 3,500 of those tickets.
So that's that's when I knew. Radio really was a good stepping stone. I've always been good to morning radio, I still am. I enjoy doing morning radio and I don't get to do it as much as I used to because I'm always doing something in the mornings. Back when I was just a middle act and a partial headlining act that's what I was doing. I never really went out a lot at night. I'd always go right back to the condo or the hotel and I would write commentaries for radio stations and I'd get up at five o'clock in the morning, six o'clock in the morning and I would make phone calls all the way till about 11:30 to 12 o'clock in the afternoon. I did that everyday, five days a week for nearly thirteen years. Those were the early groundbreaking days. I mean, you know you had to find a way to sell tickets.
Tell us about your creative style.
Well I know one-liner type comedian. I'll get an idea. A lot of times the punch line comes first.
Sometimes it's just something that happens throughout the day and you put a twist on it for the for the joke you know. I'm constantly got my phone with me and I constantly take it out using my notepad on there and write a funny thing down. Then at the end of the day or week I get together and I'll go through them all and try to perfect them. I try to write ten one-liners a day just from things that happened throughout the day, things that I saw, ideas that I had. By the end of the week, I've got fifty premises and ideas and I see how many of them I can bring to the stage. I think Seinfeld may have also said something like this, but this has always been my way of doing it as well…. I might have got the idea from him, I'm not sure it because I've been doing this since the late 80's. But I have a baseball system to all my jokes. I have the jokes that are in my act is the major leagues. The jokes that I've had in my act at one point, I don't use them all the time, but every now and then I'll use them….those are AAA jokes. Or a joke that I like every now and then it gets a laugh and I know it can get a laugh, I just got it in the wrong order. I'll move him down and try to find a spot for him. Then you got those AA jokes that have been tried maybe just once or twice, they need a little work, but I know they're going to work at some point. They're my AA jokes and then I have single A like and those are just all the ideas and premises and they need to be worked out. I mean I have jokes from 12-14 years ago that are all throughout my notebook and I'll go through them. Say I go through the single A jokes…well now there's that joke I wrote twelve years ago that I haven't looked at since and now I'm doing a routine on my act where that joke might work. So boom – he gets a call up and if he works he's in the lineup, if he doesn't work he'll go back into AAA. So that's just kind of how I do it. I'm a one liner comedian, so I don't have long stories or bits so it's an easy way for me to to do it.
I always throw in, at every show, three or four brand new jokes. I have a set list of what I want to do and then I know that when a joke is getting older I can tell. About every year and a half I like to have a new routine, at least seventy percent of the act new. I can always tell when I need to replace a joke. When a joke doesn't get the laugh that it used to get it's because people already know the joke is coming and they've already heard that. If you do a show and there's three thousand people, only twenty percent maybe twenty five percent of the crown will remember you doing that joke because I have almost three hundred punchlines in my act. So there's always a large group of people that haven't heard the joke.
What are some of the challenges of being a stand-up comedian?
I would say just trying to say at the top of your game, staying relevant, and not getting bored with it. You know, everytime you go on stage some people… they've been fans of yours and some people, this is the first time they've ever seen you live. So no matter how tired you are of the certain routine or a certain bit….they're not tired of it. I've heard bands explain that before.
I remember that when I was watching the Eagles, their little thing they had on Showtime, when they talked about the Eagles and what's his name said he went out…. I can't remember his name. I think is was Randy Meisner, he was out drinking the night before and his voice the rough and he didn't feel like singing "Take It To The Limit" because he didn't feel like he could hit the high notes very price as well. A band member said "Look, regardless if you're sick of singing "Take It To The Limit," a lot of people….this is the first time….this is their big night out to see the Eagles. Whether we've all trudged through these songs a million times, regardless these people…. when they watch you sing this song, you should sing that song like it's the first time you've ever sung that song in front of anybody. That's the same way with comedy, no matter how many times you do your act and you go through your act – they came out to see you and for some of them it's the first time they saw you so you should tell that joke like is that like you can't wait to tell it, like you just wrote the joke yesterday you can't wait for people to hear the it.
The longer you do comedy, you want to remember, no matter how tedious you think it is, somebody's hearing that for the first time that's paid $40 to come see you, so give it one hundred percent. Some comedians – you know they have their certain routine and they just want to get up and get it over with. I mean Bill Hicks had a great bit on that – I remember he went up at Comedy Corner one night and he goes –
"Alright folks, I guess I'll go ahead for trudge through this bullshit one more time and act like it's the funniest thing I ever heard."
Which he did! He was just as funny that night ashe was the night before when he did it, but he was being honest. That's always a challenge. When you're on stage, you want to make sure that you have as good of a time as the crowd does.
You're a busy-ass guy!
Yeah, I've got to tell you, I like it. I like doing different things. It's a lot of fun, but I will say though, I have by choice started slowing down a little bit because my kids are….you know my little boy just turned eleven yesterday and my little girl is going to turn ten and you know, I missed a lot of stuff. They toured with me for the first five years of their life. We all lived on a tour bus together and I told my wife when I hit fifty that I was going to start slowing down, so I don't take as many projects anymore and I've turned down a bunch of game shows and I turned down a sitcom. I don't want to be away from my house, so if it takes me away from the house for too long then I'm probably not going to do it. Thanks to my fans and the career that I have, I'm very blessed to be able to do that because some people don't have a choice… they have to go out and work, but you know I'm very thankful that I have a choice in the matter so.
You've developed and have been very successful with the on-stage persona of "Larry The Cable Guy," as well as the accent that came with it. Did that take practice or was it something that was developed when doing your radio personalities?
No, that didn't practice at all that. I'm a country kid –  I grew up in Nebraska on a farm. I grew up next to a cattle barn loading cattle trucks and unloading big trucks. I grew up in the southeast corner of Nebraska. My dad had a little Southern accent. My dad was was a backwoods fire and brimstone preacher and my dad, whenever he gets going, he would have a little accent. I picked  that up totally when I went to college in Georgia and then when I moved to Florida, because I gravitated to all the country kids, all the the crackers down. So when I moved to West Palm Beach, Florida, which was way smaller than it is now, I moved there in the late seventy's – early eighty's and it's a lot different then than it is now. So I gravitated to all the kids that had horses and cattle and so I've hung out with a bunch of redneck kids and I just picked it up, I have family spread out everywhere, but my wife's from Wisconsin so it doesn't take me more than two days to start talkin' like I'm from Northern Wisconsin you know cause everybody starts "talkin' like this you know "a boat"  becomes abooooot" and."a deer camp" becomes a "deer cammmp." I just picked it up, it just came natural because all my buddies talked like that. When I went out every day with my friends they all had accents and I just blended in and picked it up, so it wasn't hard.
It's not hard to go in and out of it all. Sometimes I talk like that when I don't even realize it. Now that I'm living in Nebraska, not many people have an accent in Nebraska, but the minute I come across somebody from the south and they're talking with an accent I'm right back to it.
You were the subject of a Comedy Central Roast. Tell me about that experience.
It was fun. If you take yourself too seriously, they're not fun, but I don't take myself too seriously. I got a lot of other important things in my life. It was dirtier than I wanted it to be. Obviously, now that I have kids, I look back on some of the stuff that I had done. Had I of known I was going to have kids I would never, ever have done those things. But I mean, you do what you do and you can't take it back….it's on tape so there you go. It was a lot dirtier than I wished it would have been and so that's the only regret I had about that. I'm not a prude, but when you're trying to raise your kids in this world….you know it's not a good example for your kids. And you know I can't take it back. I wanted originally my roast to be more like a Dean Martin-type roast.
When I took the gig, they promised that that's how it was going to be… they promised me a PG-13 roast, but of course that's not what we got.
Tell us about your experience here in Colorado.
I started out at Comedy Works, which is one of the best comedy clubs ever in the country.
I was partial to my comedy club, The Comedy Corner in West Palm Beach, which is now closed down.There was a Comedy Works in Tampa that was break off of the Denver club, which was awesome, but that Comedy Works in Denver… I would literally say it's one of the top three clubs in the country. Comedy Works is fantastic. Wendy does such a good job and I'm not saying that because I'm trying to get gigs there. I don't work there anymore because I do other things, but it literally it was awesome and I they just had an anniversary. I think a thirty year anniversary and I wanted to do it so bad but I couldn't do it because I had some shows in the area and my management wouldn't let me do it. I've done an arena in Denver. I think I've done almost every venue in Denver, except for the football and baseball stadium. There one venue that I've always wanted to do…and that's Red Rocks.
I always said I wanted to do the three big rodeos. The Houston Rodeo, Cheyenne Frontier Days and the Calgary Stampede. I ended up doing Cheyenne, I ended up doing Houston. I was one of only three comedians to ever do the Houston rodeo – me, Foxworthy and Cosby. Then I did the Cheyenne Frontier Days. I was the first comedian they ever had at Cheyenne Frontier Days, so I got that. I never did the Calgary Stampede, but I did the Calgary Saddledome two nights in a row I think the week before the rodeo, so I never got to do the rodeo. The other one that I wanted to do Radio City Music Hall and I did two sold out shows at Radio City Music Hall. The other one I want to do is Red Rocks and I never got to do Red Rocks and the reason I wanted to do Red Rocks was that I went to a music camp when I was fifteen years old – fourteen years old in Evergreen Colorado. And I don't think it's there anymore, it was in the late seventy's, I went to a music camp and it was right when Steve Martin started getting big and he had "Let's Get Small," was his album, the one where he had the balloons on his head.He was performing at Red Rocks the weekend I was at that music camp in Evergreen and we had a talent show. Me and another kid named Benji…. I can't remember his name, it was so long ago, his name was Benji, him and I went up and did Steve Martin material for talent night. When my second album (on the Warner Bros. label), "The Right to Bear Arms" came out, it was the first album since Steve Martin's that landed in the top ten of the pop charts, so it was cool because I remember seeing Steve Martin there (Red Rocks), going up there and doing that little skit and then my album was the first album since Steve Martin's at the time and they gave me a plaque with all that written on it. So the reason I wanted to do Red Rocks would have been my trifecta because because then I also would have gotten to play Red Rock just like Steve Martin did but never did.
—
Tickets for the show are still available at axs.com.
About the tour
Two of the country's most renowned comedians, Jeff Foxworthy and Larry The Cable Guy, have teamed up to create RFD-TV presents Jeff & Larry's Backyard BBQ Festival — a brand new comedy and music festival coming to multiple cities this summer, promoted exclusively by Live Nation. With a long history of collaboration, the two have toured together multiple times and even share a stand-up special, We've Been Thinking…, which was released this past August and is available on Netflix. Between the two, they have racked up multiple film and TV roles, Grammy nominations, comedy specials, and their own SiriusXM channel (Jeff & Larry's Comedy Roundup). They've also hosted popular television shows, FOX's Are You Smarter Than A 5th Grader? (Jeff Foxworthy) and the History Channel's Only in America with Larry The Cable Guy (Larry The Cable Guy).
Jeff Foxworthy says, "Let's be honest. If we didn't have music and laughter we'd all go crazy! We're trying to bring folks a double dose of both in one night. I can't wait to kick this off and keep my sanity in check! See you there!"
Larry The Cable Guy adds, "If you don't like this tour, you need your American credentials taken away! This is gonna rock! I'm glad to be a part of such a fun event. I might even get to sing! (Only at sound check)."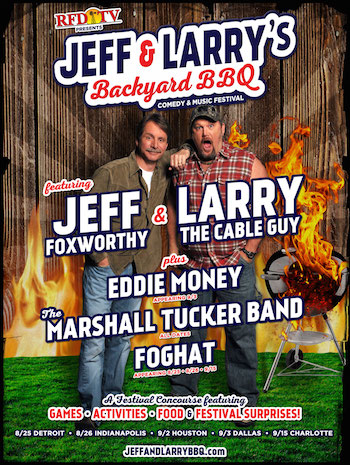 RFD-TV presents Jeff & Larry's Backyard BBQ Festival will feature the comedy of Jeff Foxworthy and Larry The Cable Guy, along with musical performances by rock acts Eddie Money, The Marshall Tucker Band, Foghat, and more to be announced! Musical acts will vary by city, so check local listings. With a number of Platinum records under his belt, Eddie Money is most well-known for his Top 40 hits, including "Shakin'," "Baby Hold On," "Two Tickets To Paradise," and "Take Me Home Tonight," which was a Grammy-nominated duet with Ronnie Spector. The Marshall Tucker Band has launched its 45th anniversary tour and continues to perform at sold-out shows across North America, having earned five Gold albums and two Platinum albums. Foghat formed in 1971 and has earned eight Gold records, one Platinum record and one Double-Platinum record. Their top 20 hit "Slow Ride" was named the 45th "Best Hard Rock" song of all time by VH1 in 2009.
With over six hours of entertainment, Jeff & Larry's Backyard BBQ Festival will be a full day of fun for the whole family. The concourse will feature a full selection of local barbeque options and a number of festival activities including dunk tanks, backyard games, and more.
A Citi® cardmember pre-sale begins Tuesday, March 7 at 10:00 a.m.through Friday, March 10 at 10:00 p.m. through Citi's Private Pass® Program. For complete pre-sale details, visit www.citiprivatepass.com. Tickets for the general public go on sale starting Saturday, March 11 at www.livenation.com. Lawn and reserved seating tickets will be available for purchase, along with Family 4-Pack ticketing options on select dates. A full list of on sale dates is listed below. Additional information on tickets and pricing is available at http://www.jeffandlarrybbq.com.
A limited number of VIP ticketing packages will also be available for purchase. VIP Fan Packages are $199 and include one premium reserved seating ticket in rows 10 through 20; access to the VIP lane for expedited entry into the venue; a Jeff Foxworthy & Larry The Cable Guy survival kit, filled with a number of surprises; a souvenir VIP concert ticket; and on-site VIP host and ticket pickup. Git-R-Done VIP Meet & Greet Packages are available to those ages 21+ for $399. These include one premium reserved seating ticket in rows 1 through 9; a Meet & Greet and individual photo opportunity with Jeff Foxworthy & Larry The Cable Guy; exclusive access to the VIP Club including a cash bar and dedicated restrooms (where available); one drink ticket per order; one VIP parking space per order (where available); access to the VIP lane for expedited entry into the venue; commemorative VIP laminate and branded lanyard; a Jeff Foxworthy & Larry The Cable Guy survival kit, filled with a number of surprises; a souvenir VIP concert ticket; and on-site VIP host and ticket pickup.